By Jaime Plaza
Jersinio was the name his mother wished to register him as when he was still a baby. It was not accepted at the Civil Registry of Azuay, however, under the pretext that it did not belong to the Spanish language.
Then his older brother Fausto suggested the name Jefferson, but in order for it to be accepted it was necessary to say that he was the son of a sportsman. Jeff was born in one of Cuenca's most traditional neighborhood, El Vecino, on the 1st of July of 1974. He is the son of Manuel Jesus Perez (deceased) and Maria Lucrecia Quezada.
In those days his mother never imagined that her dear "Nardo," as she called him for his middle name – Leonardo – would become the greatest figure of all time in Ecuadorian sports.
As a pre-schooler, the life of Jefferson Leonardo transpired the same as all the other children of the neighborhood, amid economic limitations. As a student of Eugenio Espejo School and later at Gabriel Cevallos School, he had to work as well as study in order to help out at home.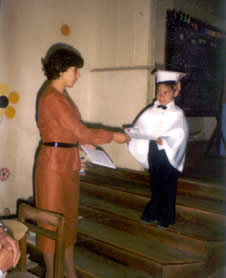 In spite of a visual handicap, his mother is one of the pillars in Jeff's success in sports. Apart from inculcating the best manners, she showed great inner strength in achieving success together with her children. In addition to Jefferson and Fausto, the Perez-Quezada family comprises Fabian, Marcia Patricia and Fanny.
In addition to his sports career, the 1996 Olympic champion worked hard as a student in order to graduate with a degree in commercial engineering and to obtain also a Master in Business Administration from the University of Azuay.

It Was Just To Gain A 100 In Physical Education
Jefferson's entry in race walking was mere happenstance. It all began due to the relatively short time he had to prepare for a distance race that was to serve as a graded test in his P.E. class when he was an eighth grader at Francisco Febres Cordero Junior High School. That need led him to ask his brother Fabian to give up his place in the group of athletes training with Coach Luis Muñoz so Jeff could train for a week.
Thus one morning in April of 1988, Jeff timidly showed up at the "Parque de la Madre", which became his training headquarters from then on.
Coach Muñoz decided to motivate him to compete in a distance race. With just a few weeks preparation he won the Sport AID race, winning the right to represent Ecuador, along with Janeth Caizalitin in New York and London as sports ambassador.
When Azuay's coach Luis Chocho discovered his potential as a race walker, he invited Jeff to join his group, which included the South American champions Miriam Ramon and Luisa Nivicela. Although at the beginning he didn't like the strange movements required in race walking, after discussing it with his family he decided to say yes to race walking, accepting this, at the time, "strange" and extraordinary sport as a challenge.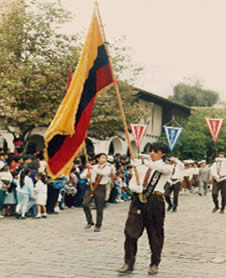 His first important triumph was the bronze medal at the World Junior Track and Field Championship in Plovdiv, Bulgaria, in 1990.
Then two years later, the first confirmation of his talent come on winning the world junior title in Seoul, Korea. "Father, I fulfilled my promise to become world champion" is the text written on a post card dedicated to his deceased father. Later there were more triumphs in the senior category in Bolivarian, South American and Pan American competitions.
The definitive confirmation of his greatness came with the gold medal in the Olympic Games of Atlanta in 1996. On the morning of July 26, he overcame all incredulity by Ecuadorians, as it was only a very small circle of those who closely followed his career that held any hope for a medal. The injection of experience by the Colombian coach, Enrique Peña, was the determining factor in motivating Jeff and determining his strategy for the competition. The favorites in the event were also surprised by the unknown Jefferson Perez.
Certainly there have been difficult obstacles in his path such as a fractured collar bone in 1993 and a herniated disc in 1999, diagnosed just days before the World Championship in Sevilla, Spain, presenting Jeff with the dilemma of competing or protecting his health.
He decided to compete and won the silver medal for his country. Days later he underwent back surgery, which left him literally prostrated and then confined to a wheel chair for several weeks. After rehabilitation he continued his training in preparation for the 2000 Olympics at Sydney, where he took fourth place. Jeff then abandoned sports for a year to finish his university career.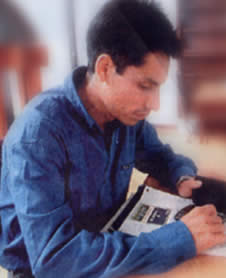 Letters and calls from Ecuadorians all over the country exhorting him to return to competition proved to be stronger than his initial decision. For that reason after a year he decided to return to high-level competition. His tenacity led to his winning his second World Cup title (the first was Podebrady in 1997), at Turin, Italy, where once again he overcame the unfavorable forecast and emerged as the winner of the event. Thus once again he showed his greatness in sports and as a person.
Three-Time World Champion, So None Could Doubt His Greatness.
His glory continued to advance and at giant steps. It occurred when he won the title at the World Track and Field Championship in France in 2003 in the 20 Km race walk with a world record on 1:17:21, a record that stood for four years.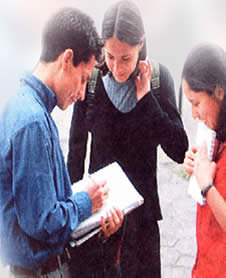 This triumph was repeated in the World Championship at Helsinki, Finland in 2005 in a time of 1:18:35. Once again, when many said that Jefferson had entered a stage of decadence in his career, he demonstrated the contrary. So that none could doubt his hierarchy, he won the World Championship at Osaka, Japan in 2007, truly a heroic feat. Thousands of kilometers from his native city of Cuenca, he became triple world championship upon winning his third consecutive world gold medal in the 20 Km race walk (1:22:20).
Now certain of his greatness, recognition was rained upon him, including from abroad. At the close of 2007 Prensa Latina of Cuba, the BBC of London and Fox Sport elected Jefferson Perez Quezada the best sportsman of Latin America. At the same time in Ecuador, without a doubt he was named the best of the year by the media and by organizations such as El Universo, Estadio magazine, the Association of Sports Writers of Pichincha and by many others.
Motivated by that great dose of praise, Jefferson hopes to take his final step at the Olympic Games of Beijing, China. It should be noted that at Sydney in 2000 and Athens in 2004, Jeff had to be content with a fourth placed (1:20:18 and 1:20:38). Nevertheless, once more he will strive to reach the Olympic podium, stand as this will be his last competition, closing out a sports career of more than 20 years.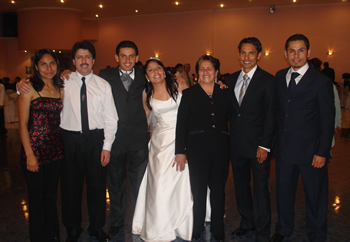 After leaving the race courses, Ecuador's greatest sportsman will look for other methods of achievement in his life. Currently he contributes to society through the foundation that carries his name, providing health, education and nutrition to children and adolescents of low-income families. In addition, he has created job opportunities by means of businesses that he started several years ago. In this way his contribution continues to grow in other activities beyond sports. In this way Jeff's mark of excellence in sports, business and as a person will last forever.